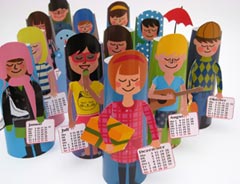 We propose this calendar which can be enriched with other events depending on each local reality. It will also present some activities/projects of peace, proposed by our partners. During the year you will receive correspondences that will present you these initiatives, remembering the due dates. Meanwhile, each school/group or association chooses whether and to what project to participate. We recall that the basis for Living Peace will always be the practice of the Dice of Peace and Time-out.
2016
September
21st - Start of the new year of Living Peace
21st - Celebration of the International Peace Day
From 22nd to 25th - Youth World Peace Forum - Florianopolis (Brasil)
Third World Conference of Youth for Peace "on line" - Peace Pals Internacional
November
20th - Universal Children's Day
Peace Crane Project
December
Fourth World Conference of Youth for Peace "on line"
2017
January
1st - World Day of Peace
30th - School Day of Peace and Nonviolence (Gandhi's death anniversary)
International Essay Contest – Unesco & Goi Peace Foundation
March
May
From 1st to 7th – United World Week
7th - Run4Unity
21st – World Day for Cultural Diversity for Dialogue and Development
June
Presentation of the candidates for the "Young Peace Ambassadors": girls and boys of the Living Peace who have given a special testimony of commitment to peace, appointed as such by the Universal Circle of Ambassadors for Peace.
July
The Bear Hugs Project – Children of the Earth
August
Preparation for the International Peace Day - UNESCO